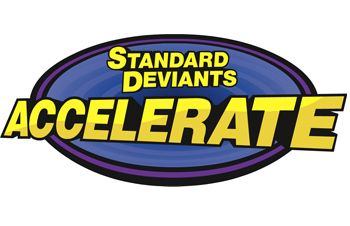 The Kids and I were given a full year membership to the Standard Deviants Accelerate Homeschool Courses from Standard Deviants Accelerate a few weeks ago. The Courses are all recommended for Kiddos age 8 and up. Most of the courses are for Middle school ages and up though. The cost for each course per Kiddo is either $99 a year or $24.95 a month. The AP courses are $14.95 a month per student. YAY, a great inexpensive way to get College credits for your Kiddos!!! This is a Secular Online learning resource that is a great supplement in any homeschool. It was designed to be used in a Classroom, so set up was a little tricky at first. But, they are working on a more user friendly set up plan right now. I appreciate a company that listens to their customers feedback to make a great product even better. Now that we have all the nuts and bolts laid out let's take a look at the meat of the product before I give you my final opinion.
Here are the 14 different Courses available at this time:
Arithmetic - Grades 3+
Fundamental Math - Grades 4+
Earth Science - Grades 6+
Nutrition - Grades 6+
Algebra - Grades 7+
Biology - Grades 7+
Chemistry - Grades 9+
English Comp. - Grades 9+
U.S. History - Grades 9+
AP Biology - Grades 11+ AP
Chemistry - Grades 11+ AP
U.S. Government and Politics - Grades 11+
AP U.S. History - Grades 11+
AP Eng. Composition - Grades 11+
Once you are all set up and have logged in your codes for each course you will see 5 tabs on the student dashboard. Mahala used the Biology and Nutrition with Kaden. I wanted them to do something together. She also used the U.S. Government and Politics and English Comp. Kaden used the Chemistry along with the courses he used with Mahala. I intended to use this program more on a schedule, but that didn't happen. Honestly Kaden used it as a time filler. On Sunday before church while he waited on us to come down stairs he would log on. He used it on his tablet on the way to therapy or as we were waiting in line at the post office. He just really enjoyed it! So he didn't use it typically, Mahala logged on 3 or 4 times a week and completed several lessons. I liked the flexibility of this resource a lot.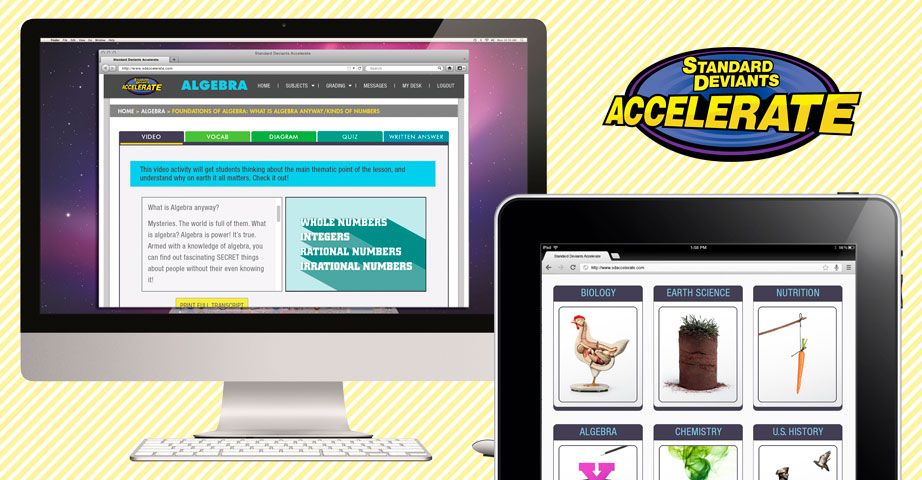 So here is what it looks like.....The first tab is labeled Video. They are roughly 5-10 minutes long and some are goofier(in a good way) then others. Kaden was not particularly amused, but Mahala's attention was captured. :)
The next tab is Vocab, a fan favorite in this house. We have been putting up new words and definitions on our fridge almost daily for the past 18 years. So anytime we have a chance to learn and discus words my kiddos are totally engaged. I love that you can click on a word to hear it and hear the full definition. This is great for auditory learners and it helps when it's a new word you haven't heard and your not positive with the pronunciation. :)
The tab after Vocab is Diagram, this was Kaden's Favorite. He gets competitive with filling in blanks of any kind. So, he was in a constant challenge with his Sister on getting the diagram blanks correct. This section is truly important. Anyone can regurgitate facts from what they just read or listened to. But, to sit down and write out answers helps concrete it in the brain. My rule of thumb is to have my Kiddos HEAR IT, SEE IT, WRITE IT and TELL IT. If they can do that then they will REMEMBER IT!
The second to the last tab is the Quiz tab. Here comes the questions, I felt they were sufficient as a supplement. Kaden wasn't too impressed, but he is a tough critic. A few answers are kind of off topic and funny, typical Kiddos would find it fun. But, Kaden being so logic minded there isn't much room for sporadic humor.
The very last tab is Written Answers and for the younger Kiddos this would even be helpful to practice handwriting. I had Mahala completely do this exercise. But, for Kaden we mainly used it as a discussion.
Now for my thought....I liked it as a supplement. It filled more gaps then I thought it would. I don't have any negatives except that the set up was a little confusing, but we are talking about me here. I can't even work our remote control for the television. :) They are working on making the set up easier, so please don't have that hold you back. Because you don't want your Kiddo missing out on all these learning opportunities over me having a set up issue. I do think this program would be a good fit for a Family with middle school aged Kiddos and older. It's great for independent learners and it hits the nail on the head for a Kiddo with Sensory Special needs. You have all Sensory options available to them and if you have a Kiddo that get's over stimulated by sights and sound this is perfect. Because it's predictable layout is not overwhelming and it's pretty straight forward. We look forward to learning many more things with this program. :)